What is MoneyMates?
MoneyMates support groups are based around the concept of sharing and learning together as a group.
This type of approach has proven successful in both large and small communities, as seen with programmes such as Weight Watchers.
Facilitators encourage group members to learn from others and gain control over their financial lives and build resilience.
Who is it for?
MoneyMates is aimed at people who are repeatedly experiencing financial hardship, or who may be more likely to encounter financial difficulty, or who simply want to learn financial management and budgeting skills.
Some participants might be transitioning from a one-on-one Building Financial Capability service to building networks and better financial independence.
What happens in a MoneyMates session?
Facilitators help a group of participants to talk openly about money and finances (not necessarily about specific details of their own debt, but about, choices, options and behaviours).
Together, over several weeks they can:
learn more about getting control of debt, budgeting and cash flow management, financial products, safer lending and growing their resources
learn from other people who are in similar situations, share their own insights and knowledge and build support networks with people going through the same experiences
access other information and support such as online forums, helplines and the Sorted website
build up their networks with whānau and their community.
Register for one of our MoneyMates Workshops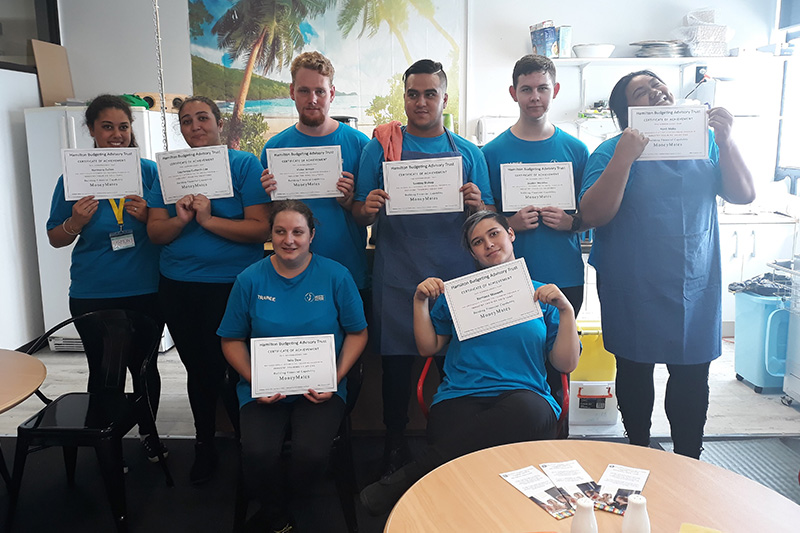 Take back control
Do you want to take back control of your finances?
Do you want to manage your debts effectively?
Do you want to plan for your financial future?
In our MoneyMates peer group sessions your will learn how to:
Control and have a better understanding of your finances.
Build a budget and keep track of spending
Effective methods to manage and reduce debt
Setting financial goals
Understand credit contracts, your rights and responsibilities
"I reached out to Hamilton Budgeting services seeking support for a facilitator to facilitate our Financial Budgeting Seminar and was connected with Tony. We were able to host a 3-day seminar covering major arears our target audience identified to struggled in most. We found the workshop to be very engaging and supportive and was set in a non-judgmental safe environment. Hamilton Budgeting Services were very accommodating & supportive which made it easy to plan/organize the seminar. Thank you for providing our community with a safe and supportive service."
Get In Touch
To speak to one of our Financial Mentors or book an appointment
Free Phone 0800 211 211  / Call us at 07 838 1339  /  Go to our Book Now page